PCD Discount Plan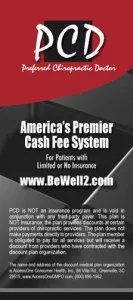 Preferred Chiropractic Doctor (PCD) is a discount medical plan which allows us to legally discount our prices 25% from our stated fee.
Perhaps you have a high deductible, limited coverage, or no chiropractic insurance benefits. You may choose or need maintenance-wellness treatments, or other care that Medicare or your insurance plan doesn't cover. You will likely save money with PCD in all of these situations!
How To Join PCD
After choosing a participating PCD provider, you should sign up directly in their office: this allows you the benefit of immediate PCD savings! You can also sign up with PCD through their national office by phone at (800) 239-3552 or sign up online prior to your first or next visit.
---
This discount medical plan is NOT insurance, a health insurance policy, Medicare prescription drug plan or qualified health plan under the Affordable Care Act. This plan provides discounts only on chiropractic services offered by providers who have agreed to participate in the Plan. The range of discounts for medical or ancillary services offered under the Plan will vary depending on the type of provider and products or services. The Plan does not make and is prohibited from making members' payments to providers for products or services received under The Plan. The member is required and obligated to pay for all discounted chiropractic services and equipment received under The Plan, but will receive a discount on certain identified chiropractic services from providers in The Plan. The participating providers do not receive any monies from the yearly PCD plan cost, but it allows them to do business with cash or limited insurance patients that otherwise might not be able to afford care and do it legally.
Frequently Asked Questions
What does the plan cost?
PCD costs $37 per year. You could easily save that amount in 2 office visits.
Who is covered under PCD plan?
PCD covers you, your spouse, and children in your household under age 26.
Please let us explain this more fully if you have any questions or concerns. We are happy to answer your questions over the phone.
(731) 664-2929